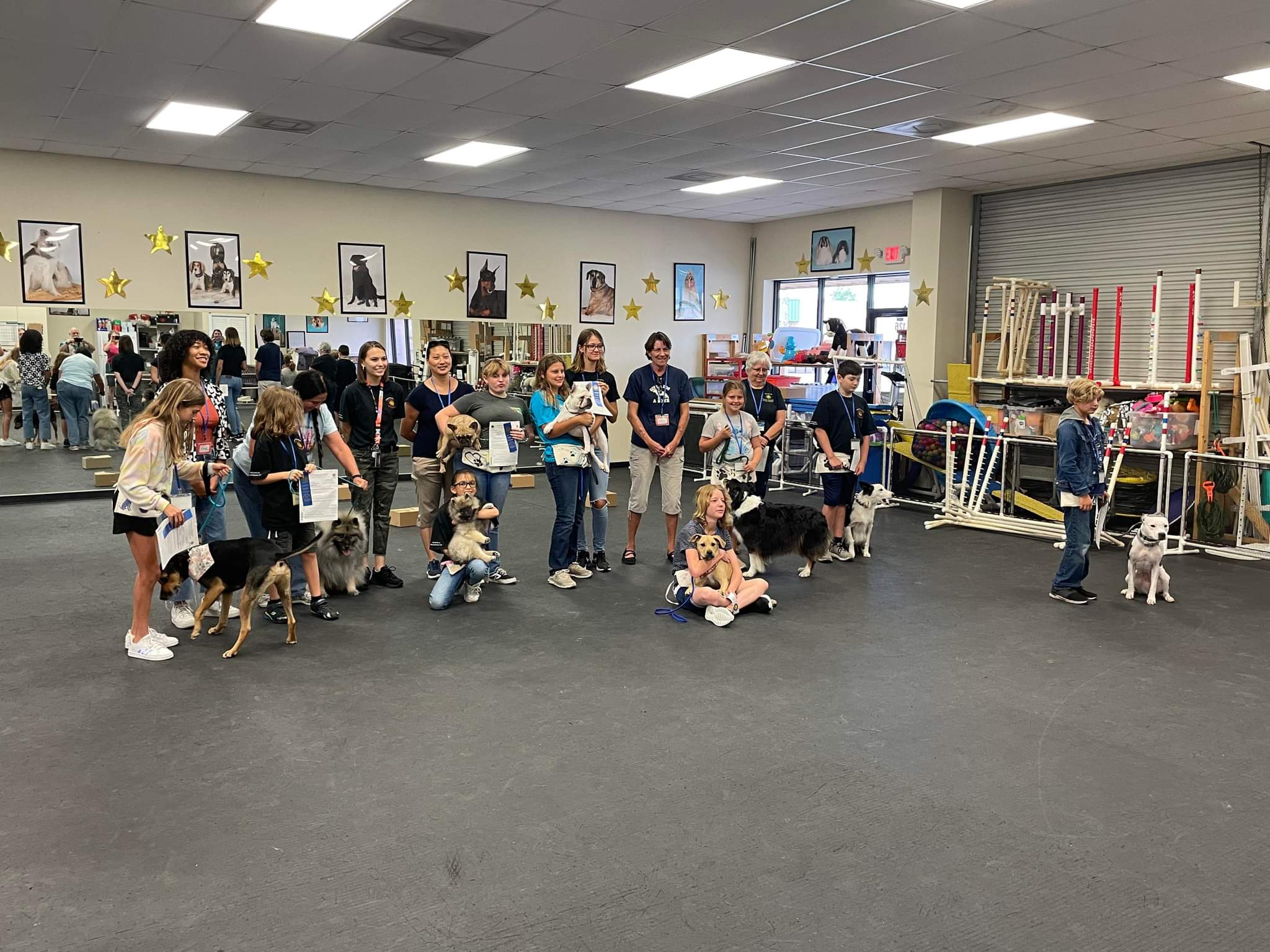 Camp Paws and Pals is a program for children ages 8 to 13 designed to introduce children to AKC activities they can enjoy with their dogs. The camp is held at The Canine Star Training Academy, Route 1, Cocoa, Florida and is sponsored by The Brevard Kennel Club. In addition to the members of Canine Star and the Brevard Kennel Club we have help from Sally Gordon of ABC Dog Training, and The Scent work Club of Brevard County. The camp runs for 5 days from 9 am until noon and as we are not licensed as a camp a parent stays with the child and takes photos for us.
Each day the children and their dogs learn obedience, tricks, and scent work; in addition to those activities we introduce Fast CAT, Conformation handling, Agility, and Frisbee. We are visited daily by breeds that the children don't usually see as well as service dogs, police dogs, dogs with disabilities, and trained dogs for persons with disabilities. Each child and dog combination are guided in the education process by their own counselor. Households with multiple children and one dog are loaned a dog so that each child in the family gets to have the same experience.
Each counselor has a supply of old show ribbons, so that when a child does something nice for their dog, answers a question, or is helpful they get one or more ribbons. Ribbons are given freely so that children have hands full of ribbons: which, starting Tuesday, at the end of each day, the children trade their ribbons for prizes such as art supplies, jewelry, dog collars, leashes, bowls, toys.
Each child receives a camp T-shirt, canvas bag, a trick book, and a story book for reader dog day thereby exemplifying that the children can read and talk to their dogs.
The book we give each child is called Payton Goes to the Dog Show by Lee Canalize, a book about conformation dog shows which is helpful for children who have never attended a show.
Through camp, this year, the children and their dogs have earned some AKC Titles. All nine earned their novice trick dog title, the two puppies in attendance earned their Star puppy, seven dogs earned their CGC title, and five dogs earned their Act I jumpers title in agility. We are proud of the children's accomplishments with their dogs.
If any other club would like to start their own camp I would be happy to help. I have been fine tuning our camp, in this format, for about 12 years.
Edna Corney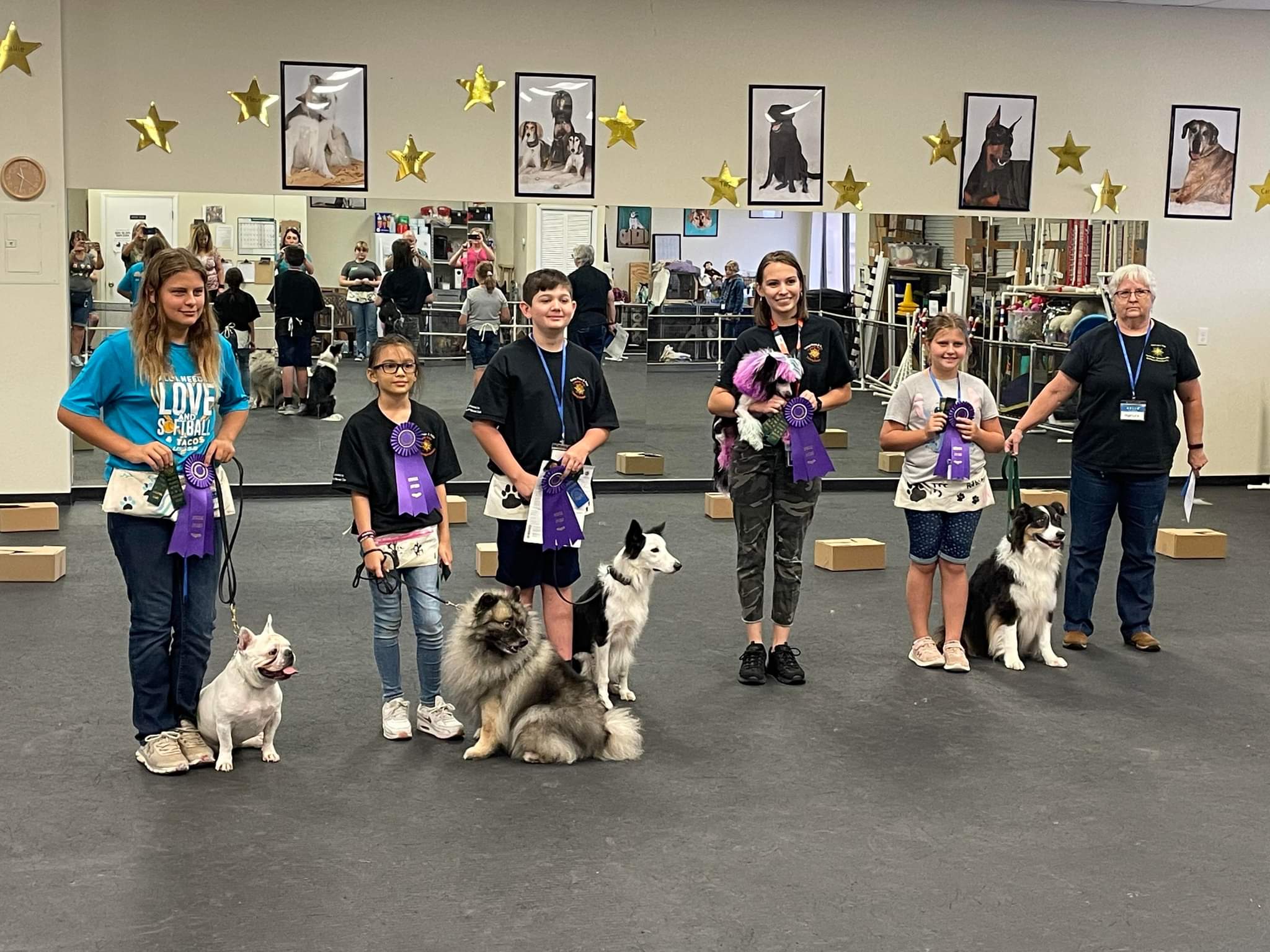 Members of the

Cocoa Police Department

Department K9 Unit came to our membership meeting to say thank you for our sponsorship of their

Space Coast Police K9 Competition

. We have been supporters from the very first year and have expanded our participation to include demonstrations of different dog sports for our pets. Brevard Kennel Club is proud to support this fun community event that showcases the skills and talent of our communities K9 partners. Thank you CPD! We are looking forward to the next one on November 19, 2022!!


Calendar of Handling Classes